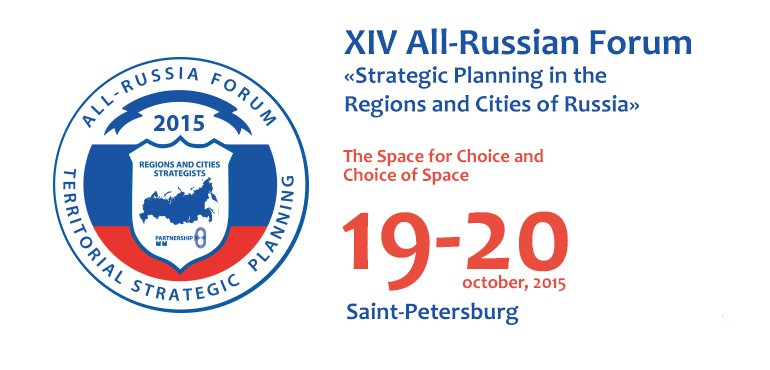 2015 Forum Theme
The Space for Choice and Choice of Space
Íîâîñòè
[2015-09-16] / Francesco Fresa, Best Architect of Italy 2013, opens the Forum Green Day within the XIV All-Russian Forum "Strategic Planning in the Regions and Cities of Russia: The Space for Choice and Choice of Space"
Francesco Fresa - is the best architect of Italy 2013, founding partner of Studio Piuarch (Italy) will open the Forum Green Day at the 19th of October.
Participation in the event program has been already confirmed by Pablo Celis, Head of the project «Aarhus Cycling City» (Denmark), who will talk about the development of urban cycling infrastructure, ecomobility and promotion of an active lifestyle.
Evelina Lufti, Project Manager, Green Net Finland (Finland), will be speaker at the round table "Innovation networks and clusters of "green technologies", where Russian and foreign experts will discuss the clusters of clean technologies, creating incentives for investments in energy saving technologies and environmental protection.
Forum Green Day will be attended by the delegation of the French Federation of Landscape Architects, headed by Ariane Delilez (France), the Director of the Federation.
At the moment participation in the Forum have confirmed by Martin Guillermo-Ramirez - Secretary General, Association of European Border Regions (Germany); Cynthia Lazaroff - Biosphere Foundation, Executive Vice President (USA); Magelonn Dejan-Pons - Executive Secretary, Coordinating Committee for Cultural Heritage and Landscape Planning of Council of Europe (France); Raitis Sijats - Vidzeme Tourism Association, Chairman of the Board (Latvia); Nikolaos Vagionis - Senior Researcher, Centre for Research in the field of Planning and Economic Affairs (Greece); Rupert Kavka - Project Manager, Federal Agency for Building and Regional Planning Issues in Germany.
It is planned to have more than 20 reports within the two-day Forum program from foreign experts, representatives of national, European and international organizations, including Council of Europe, Association of European Border Regions, Organization for Economic Cooperation and Development and others.
Location
Hotel Park Inn Pribaltiyskaya, St Petersburg, Korablestroiteley str.,14