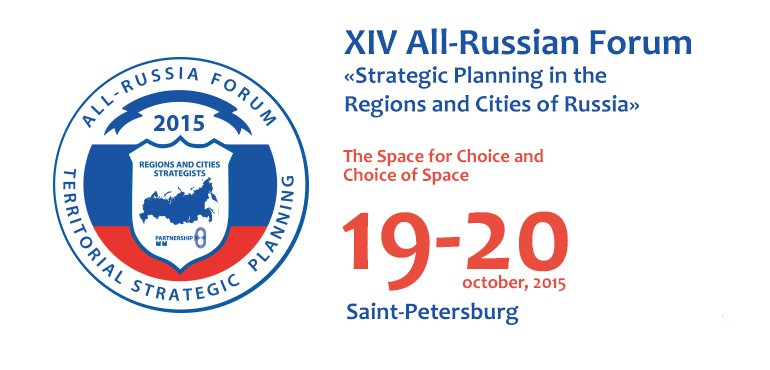 2015 Forum Theme
The Space for Choice and Choice of Space
Programme
20.10.2015

C5d

11.45-13.45

Round Table

Strategic Approaches to Spatial Planning in Russia
Summary
State policy of regional development of the Russian Federation is aimed towards sustainable socio-economic development of subjects of the Russian Federation through infrastructure restrictions removal and maximizing the usage of the regions and cities potential.
Federal Law ¹ 172 "Strategic planning in the Russian Federation it is planned to call for preparation of type of documents which is absolutely new for Russia. It combines the principles of strategic and space planning - Strategy of space development in Russian Federation, elaboration of which should be finished by the end of 2016.
One of the key objectives of the state policy is planning of perspective space organization of territory of the Russian Federation. Therefore the question of approaches to space planning and the discussion of targets have become very important.
Questions of methodology, content and special features of preparation of the space development strategy and other important documents are offered to be discussed within the round table.

Organizers: Ministry of Economic Development of Russian Federation
Attention! This module displays only registered moderators and speakers. Download the full version of the Concept:
Äîêëàä÷èêè
Grishina Irina, Council for the Study of Productive Resources (SOPS). Head of Department of Theory and Methodology of Spatial Researches

Methodological approaches to the spatial organization of the economy (parallels in history)
Spirin Pavel, ONHP. Director general

Methodological approaches of strategic development of North-West Federal District
| | |
| --- | --- |
| | Chernikhov Andrey, Andrey Chernikhov' architectural studio. CEO "Andrey Chernikhov architectural studio |
Moderators
Chuguevskaya Elena
Ministry of Economic Development of the Russian Federation. Director of the Department for strategic and spatial planning
Organizers
Materials
Location
Hotel Park Inn Pribaltiyskaya, St Petersburg, Korablestroiteley str.,14