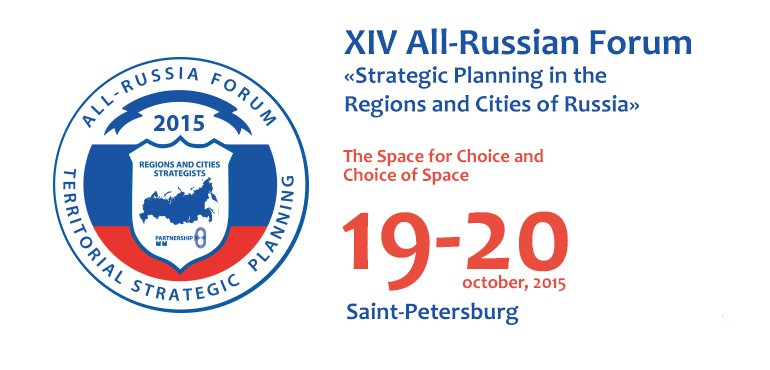 2015 Forum Theme
The Space for Choice and Choice of Space
Programme
19.10.2015

P8c

15.00-17.00

Round Table

Improving Strategic Planning to Increase the Quality of Investment Projects of Integrated Territorial Development
Summary
An urgent task of reforming the system of strategic planning is to develop effective mechanisms and tools of management in regions development with project approach. This requires links between strategic documents and target programs of regions development and private sector plans, aimed to support investment projects of integrated areas development. Questions for discussion:
• Strategic planning: from theory to practice.
• Synchronization of priorities and coordination of development institutions.
• Practice of using the tools of territorial development.
• Improving approaches to regional policy of Vnesheconombank.
• Integrated areas development projects as a tool for restarting the regional economy: how to form and structure projects.

Organizers: State Corporation "Bank for Development and Foreign Economic Affairs (Vnesheconombank)"
Attention! This module displays only registered moderators and speakers. Download the full version of the Concept:
Äîêëàä÷èêè
Filonov Andrey, Administration of the city of Yevpatoriya. Head of Administration of the City of Yevpatoriya

Ñluster approach to the integrated development of the Yevpatoriya city, Republic of Crimea
Tolmachev Dmitry, Analytical center «Expert», Graduate school of economics and management of Ural Federal University. Director

Experience of realisation of the Strategy of socio-economic development of the region in current conditions
Moderators
Klepach Andrei
The Bank for Development and Foreign Economic Affairs. Deputy Chairman (Chief Economist) – Member of the Board
Knyaginin Vladimir
Center for Strategic Research. President
Organizers
Materials
Location
Hotel Park Inn Pribaltiyskaya, St Petersburg, Korablestroiteley str.,14